PC Consultants support for Island Business and the Chamber of Commerce was reflected in our sponsoring the PC Consultants Suite at this years Business Expo, taking place at the Lakeside Park Hotel & Spa in Wootton on the Isle of Wight.
With almost 60 businesses exhibiting at Business EXPO 2022, the event promised once again to be a popular one for both exhibitors and the many visitors attending the event from businesses across the island.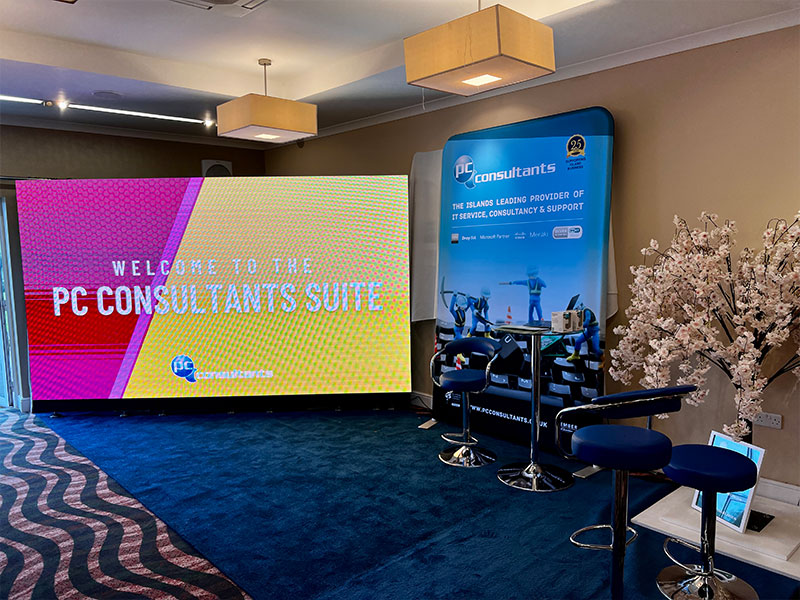 The PC Consultants Suite allowed us to host 16 leading island businesses, including: the Isle of Wight College, Innovation Wight, HTP College, Hillbans Pest Control, Roach Pittis Solicitors, Brightbulb Design, Lifeline, Mountbatten and Lawdit Solicitors. In addition to our own dedicated area which provided the perfect opportunity to talk with visitors regarding any aspect of IT service and support, including showcasing our digital portfolio of websites and online services for island businesses. The event also provided an opportunity to show our new video showreel, commissioned for the event.
What was clear is that all those attending wanted to use the time effectively, to network, meet with existing suppliers and develop relationships with new ones. Having the best of the island at the event certainly helped with this. For us the event was another success in what has been another good year for the business, with several new opportunities identified and meetings scheduled as a direct result of Business EXPO 2022.